An Air Conditioning Fashion Statement
Sometimes the smartest fashion is the simplest, like when your heating and air conditioning system needs service work. It's times like this that a simple shoe cover seems more sublime than the smartest Gucci loafers; especially when the shoe cover protects your carpets and floors.
If you think this kind of extra care is unusual, wait until you see the care Batlett will take with your heating and cooling system. And if our service technician fails to wear shoe covers, we'll take $20 off your service call.
Call Bartlett Heating and Cooling…
When you want a family owned, neighborhood company who cares.
When you want a service technician who knows he's a guest in your home, acts like one, and cleans up.
When you want a NATE Certificed techician to make repairsquickly, correctly and at a fair price.
Want some shoe covers of your own?
When we're servicing your heating and air conditioning system, simply ask our technician for a pair.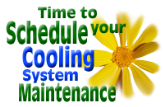 Springtime is Tune-Up Time
Schedule a Bartlett Heating & Cooling "AC Start and Check" to:
Improve comfort
Restore lost capacity
Cut utilities all summer long
Prevent breakdowns
© Service Roundtable