Have a Healthy Home for 2021
The EPA has ranked indoor air pollution as a high-priority public risk Yikes!
While we cannot prevent you from getting the flu, Covid 19 or any other virus, we can help make the air in your home cleaner, safer and provide healthier indoor for you and your family by tackling and killing the germs in your home.
First, let's purify the air in your home
iWave™'s advanced technology takes care of these issues, delivering cleaner, healthier air for you and your family to enjoy. This is a purifying device that installs in your HVAC system. When air passes over the iWave™, ions produced by the device reduce pathogens, allergens, particles, smoke and odors in the air, creating a healthy environment without producing any harmful byproducts.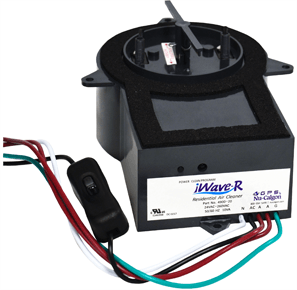 Other common air purification technologies require ongoing maintenance with bulb/cell replacement every year or two, making cost of ownership undesirable. But the iWave™ air purifier has no harmful byproducts and most models require no ongoing maintenance and have no replacement parts. You can enjoy years of maintenance-free performance!
Installed for $775.00
Second, let's keep your home's humidity levels in check. Did you know that a dry home can make you more susceptible to catching cold or flu viruses?
When it comes to feeling comfortable in your home, the old saying "it's not the heat (or cold) - it's the humidity" rings true. Other than ambient temperature, nothing affects a body's perception of comfort more than the humidity level. And there's a fairly narrow range between what is considered "too much" and "too little" of it. And unfortunately, the heated air from the furnace depletes the humidity in your home.
Too Little Humidity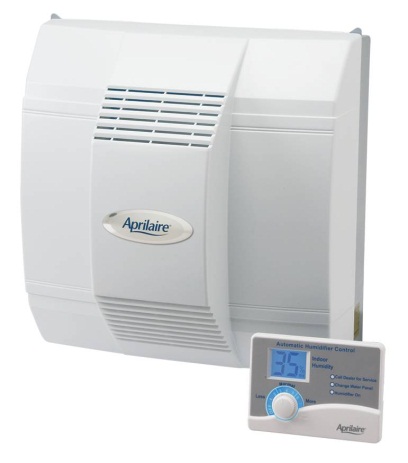 Dry air dries out your nasal passages, making you more susceptible to nose bleeds and infections.
Moist air reduces the potential for bacteria and viruses to enter your body.
Low levels of humidity have been linked to the faster progression and transmission of viruses in the air.
An added bonus of proper humidification your home? You might save a little money on your heating cost! That is because adding humidity to the home can make your home feel warmer that it actually is. Also, adding humidity will help keep hard woods and crown molding from cracking and help keep pianos in tune!
Installed for $985.00 *
*Not applicable for installation in attic.
Now, let's clean your air to remove as many pathogens, dust particles and kill any virus's trapped in the filter system:
The Infinity air purifier is our premier air cleaning and purification solution with patented Captures & Kills™ technology, proven to capture and kill 99% of Coronavirus trapped in the filter. It provides the highest tested germicidal effectiveness with a 99% inactivation rate against selected viruses, bacteria and fungi. At MERV 15, it achieves the highest air cleaning efficiency of any Carrier model. The replaceable filter can provide several months of filtration. And, it's available in models compatible with your Carrier furnace or fan coil.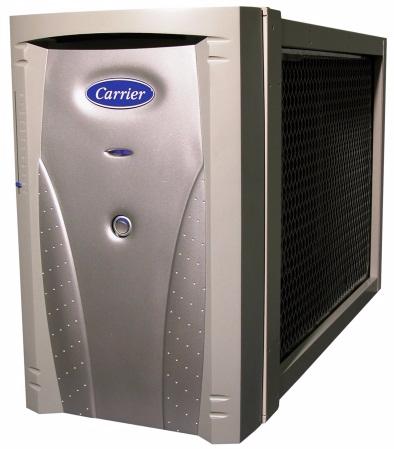 Independent lab testing on the Infinity air purifier technology has shown a 99% germicidal effectiveness (inactivation) within 24 hours for the following:
Viruses - Human influenza, common cold, avian influenza, wild type A influenza, measles, smallpox surrogate, and coronavirus (SARS)
Bacteria - Bacillus subtilis, Mycobacterium parafortuitum (tuberculosis surrogate), Staphylococcus aureus, Serratia
marcescens, Pseudomonas aeruginosa, and Streptococcus
(causes sore throat)
Fungi - Aspergillus versicolor.
Installed for $1,886.00 *
*Typical installation. Not all furnaces allow enough space for this installation. If your system does not have space for the Infinity, we will recommend a different size/type of filtration system and offer the same discounts.
Any one of these products as a standalone device will greatly improve your indoor air quality. However, the more you correct your indoor air, the better your chances of staying well are. We are offering a special now through March 31, 2022.
Any single item: $50.00 off
Any two items: $150.00 off
All 3 and have the Trifecta of clean air: $250 off. That's a total of $3,111.00 for super clean air!
*Added bonus, 1 to 3 year financing available with approved credit.
License CN209995