T, SMOKE AND ODORS
Reduce or eliminate viruses, bacteria, mold, allergies, dust, smoke and odors.
Yes, this little box can help sanitize the air in your home. An air cleaner filters the air as it passes through your mechanical system, but this Plasma air cleaner will sanitize the existing air in your home and make the air cleaner or filtration system more efficient and effective.
As an added bonus, another great benefit in having this GPS unit is helps controls odors in your home. If you cook fish for dinner, you won't smell it the next day!
This one little device helps control odor, mold, virus, bacteria, and allergens.

In fact, GPS's independent testing shows Cold Plasma kills 99.6% of contaminants in less than 15 minutes in the space.
For a little presentation, watch this YouTube video :
MADE IN THE USA!
We are proud to offer Made in the USA products whenever possible. THE GPS is not only made in the USA, but in GEORGIA. We think that is just peachy!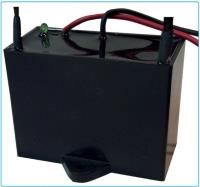 Check out just a few of the organizations that are using this amazing air stanitizer:
* County County School System
* Gwinnett County School System
* Childrens Hospital Boston