There are a lot of heating and cooling contractors that offer services in the Metropolitan Atltanta area. Legally, you must have a Georgia State Conditioned Air License to perform heating and cooling service and installation. But Bartlett Heating and Cooling believes that we should offer our customers more than just a license...after all, just because you have a drivers license doesn't make you a good driver! Bartlett Service and Installation Technicians are NATE Certified, which helps to assure you that your Technician is well qualified and trained to provide you with the best technical service available.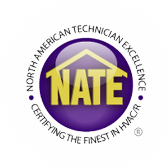 Founded in 1997, North American Technician Excellence (NATE) is the nation's largest non-profit certification organization for heating, ventilation, air conditioning and refrigeration technicians. Headquartered in Arlington, VA, NATE is the certification organization governed, owned, operated, developed and supported by the entire HVAC/R industry.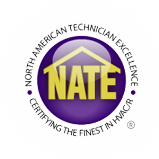 Bartlett is a Quality Circle C3 Contractor
NATE HVAC/R Quality Circle Contractors are the elite group of NATE contractors. That means we have at least 80 percent of our total technicians NATE-certified. In fact, the only time Bartlett ever hasnon-NATE certified Technician is when we are simply waiting for the next NATE test. All Bartlett technicians are required to become NATE Certified within their 1st year of employment at Bartlett Heating and Cooling, although most receive it within their first 3-6 months of employment.
To maintain their NATE Certification, technicians must log at least 60 hours of NATE accredited training over the course of 5 years. For Bartlett Heating and Cooling Technicians, this is no problem as our technicians complete well over 40 hours of training each year!