IMPORTANT INFORMATION REGARDING
R-22 (Freon) COOLING SYSTEMS
Do you have a cooling system that still uses R-22, also known as Freon, refrigerant? If your system is more than 10 years old, there is a pretty good possibility that it does. If so, there are some very important changes in our industry that could affect you this year.
Why is there a shortage of R-22 / Freon?
Over the past several years, the
EPA has been in the process of phasing out R-22 refrigerant
. As of January 1, 2020, R-22 can no longer be produced in the U.S., nor can it be imported into the U.S. For the past several years, the cost of R-22 has increased. We expect this trend to continue.
This graph show the percent in allocations from previous year: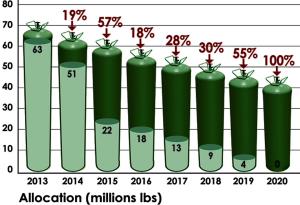 How will this affect my cooling system?
Prices on R-22 / Freon have been steadily rising each year. However, over the past 3 years, we incurred a significant price hike in R-22 / Freon and at times found it hard to keep an adequate supply. Should your cooling system need R-22 / Freon this year, you can expect that the cost of the Freon (charged by the pound) to be increasingly expensive. There is even a possibility, based on industry predictions, that there will be a shortage of R-22 / Freon.
Can my R-22 HVAC system still be repaired if it breaks down?
Yes! Absolutely! However, many systems that use R-22 are 10+ years old, meaning that other components of the system are more prone to breaking down, resulting in costly repairs. We just want to make you aware of what is going on in the HVAC industry, so that you have the information needed to make the best decision for your home and your family.
What should I do now?
1. If you know that your cooling system uses R-22 / Freon and you have had to add Freon to it in the past, or if you know that it is old and prone to break downs, you should schedule a visit with one of our Project Managers to provide you with a free quote to replace your system.
2. If you have not had your HVAC system serviced within the past year, you should go ahead and schedule a maintenance visit. This will give you a better idea of what shape your AC system is in and advice on how get through this summer comfortably. Don't worry, our technicians will give you all of your options and answer all of your questions!
3. If you had R-22 refrigerant added by a Bartlett HVAC technician in 2019, you are eligible to apply some or all of that expense towards a new HVAC system if you have Bartlett install it in February 2020. Essentially, Bartlett will "buy back" the refrigerant!
What about "drop in" refrigerants?
There are "drop in" refrigerants designed to work in existing R-22 systems. Bartlett does not offer this service or recommend it. The "drop in" is not as simple as it sounds. Your existing system has to be retrofitted in order to properly add this drop in. This can be an expensive process. Bartlett's stance on this is that due to the expense of the retrofit, along with the fact that the rest of the HVAC components are older and have the potential to fail, we feel that we would be doing a dis-service to perform this service. Now, there are other HVAC companies that will do this and possibly with good success, but this is just not something we feel comfortable with currently.
So many times we hear, "I just want my AC to make it through one more summer". We completely understand. Just keep in mind that a system that is limping along is costing more money in utility cost. With Atlanta summers getting hotter and lasting longer, it makes sense to consider the advantages of replacing your HVAC system before it gets hot. In some cases, customers have saved as much as 40% on utility cost!
Now is the best time of the season to replace your system.
The weather is still cool, which means you can avoid down time in the heat of summer. Also, rebates and incentives are at their best. If you are interested in receiving a free, no obligation quote to replace your existing R-22 system, now is the time! Bartlett Heating and Cooling is currently offering the best prices and incentives of the season, with significant rebates and incentives on select high efficiency systems. And don't forget, we have great financing solutions* too! *With approved Credit.
At Bartlett, we always do our best to keep your system running. We never use scare tactics or pushy sales pitches to coerce you into any decisions. However, we have real concerns with increasing cost of R-22 refrigerant. The most cost effective, long term solution is to replace your older cooling system with a new, higher efficiency system that uses ozone friendly R-410A refrigerant.
Give us a call at 770-429-0278 to schedule your free quote. We can show you just how comfortable, efficient and affordable your HVAC system will be!
Financing available!